I am venturing into a small biz....Honey B's Sweet Indulgence Candy Buffet @ facebook/Honey B Allende...After creating with my Cricut scrapbooks, cards, tags and banners...i have ventured into creating awesome and memorable candy buffets....Currently am working on perfecting my Cupcake swirls, and rosebuds...as well as creating new a different lolli cake pops...YUM!!! I started making tags for someone else, helping her beautify her candy buffets, unfortunately it didn't work out...So i decided to venture out on my own...and well...here i am...I couldn't do it with out the constant support of my BFF...YUP...my husband LOU...Love you BOO BOO!!! He has whole heartedly believed in me from day one...I'm one LUCKY Gal... :)
With this blog, you all can see me go through my experiences as a Candy Buffet Coordiantor for the first time...and see my ideas and creations with my Cricut Expression, Imagine, Cuttlebug, Glue and Scissors that will enhance my my stations...Your comments are always welcomed, as well as your ideas and suggestions....
*** Here I made a little Flower pot with Lolli cake Pops of French Vanilla and Strawberry cake for my co-workers Duaghter's Bridal Shower...I also made her a banner using my Cricut Expression, Tie the Knot Cartridge, and stock paper***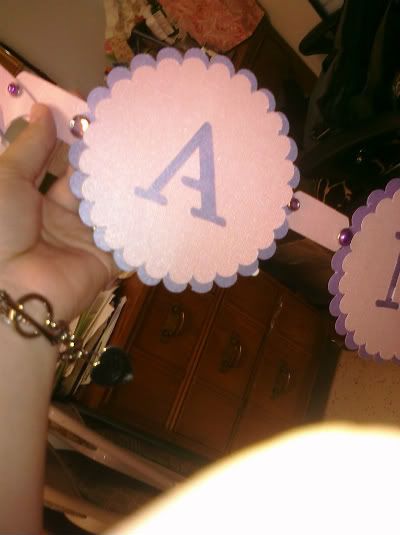 Close up of the BANNER...
My assistant, Maria Cruz, Holding the banner...Cartridge used...TIE THE KNOT...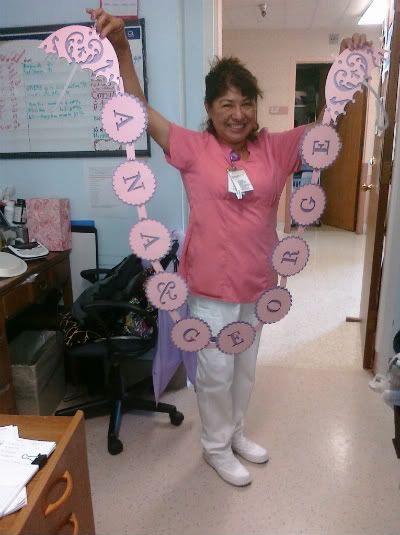 Here Is Maria Cruz again holding the banner fully...For her Daughter's Bridal Shower...
***

here is a lolli cake pop basket made for Efraim's Lil sister for her bday...Wilton Candy melts, cake mix Strawberry (any) will do...and lolli sticks alsoWiltons...***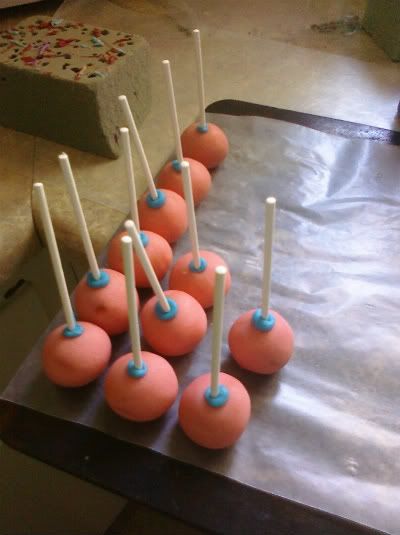 ***Winnie the Pooh Hunny Pots Lolli Cake Pops...I was making these for a Baby Winnie the Pooh themed party***
And TATA!!! Here is a small very simple 5-6 Jar Candy Buffet Sample set up...Not personalized, i think adding the Cricut can help personalize everything, even this lil buffet...what ya think?
Thanks for stopping by...
HONEY B.
facebook me at: Honey B Allende